Welcome to RxCabinets
Family-owned and operated for over three decades, we have remodeled nearly 400 pharmacies. Now we bring the pharmacy cabinets and shelving we use direct to you.
Rx Cabinets has the organization, staff and expertise to deliver all your pharmacy storage, cabinets and shelving needs. Need an item you don't see? Call one of our friendly, experienced service representatives at 844-4Rx-Stor.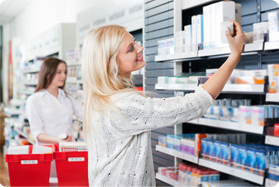 About Rx Cabinets
Our owners have 30 years of experience designing and equipping pharmacies of all types. 
With this experience and the relationships we have built with top pharmacy equipment suppliers we now bring their equipment direct to you. Our staff is here to help you create a practical & beautiful pharmacy while staying within your budget. Need assistance call 844-4Rx-STOR or Email Us.